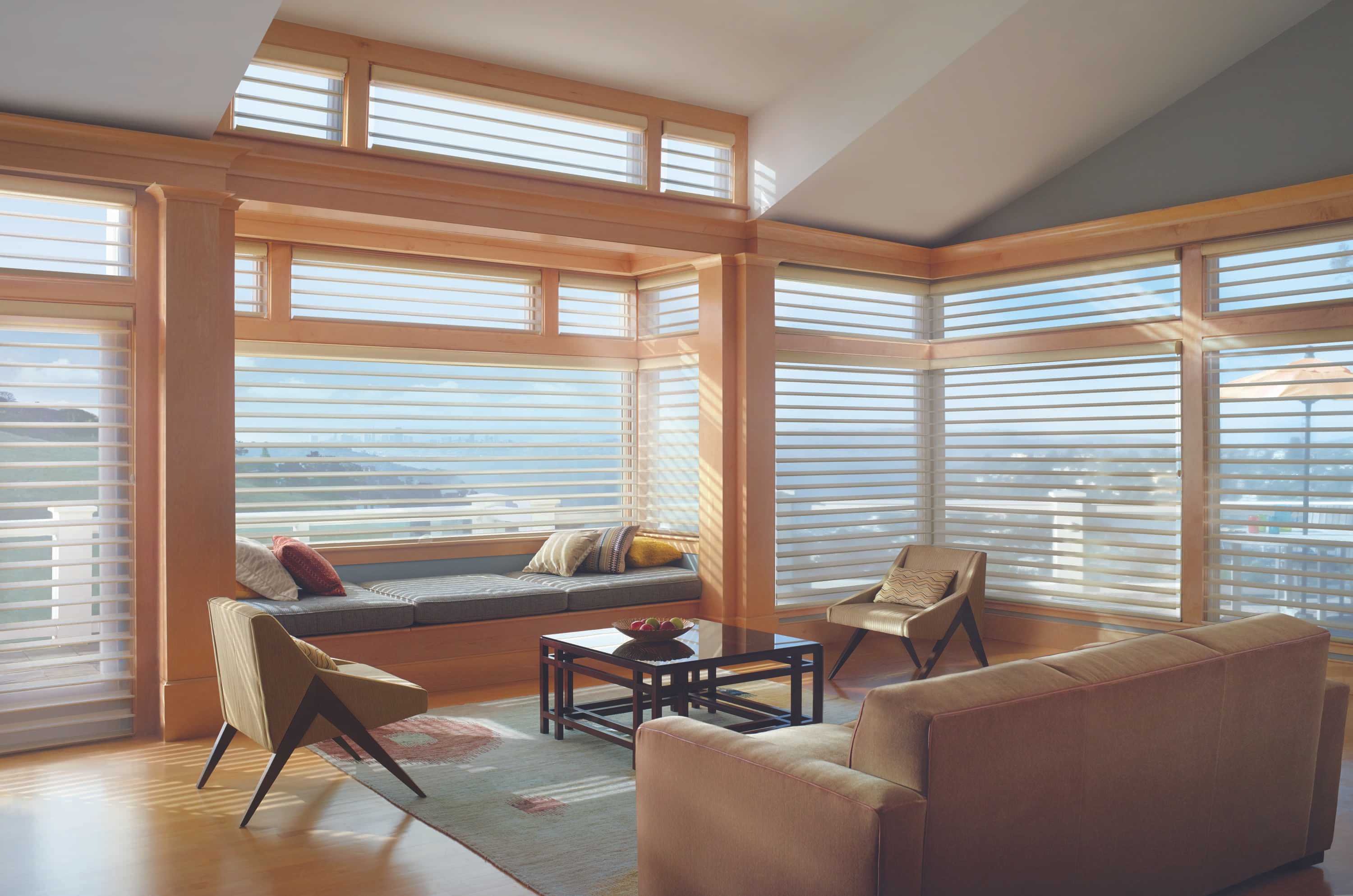 Window Shades
What is in style for Window Shades?
When you think of window shades, what comes to your mind right away?
I bet you thought of roller shades or roman shades.
No doubt, those two styles are pillars of window shades. But, I want to show you more styles that suit your lifestyle shift — contemporary, modern, feel more open and less bulky.
You aspire to know the shade styles that are more in line with the "spirit of the time."
A quick note — we use the terms blinds and shades interchangeably to mean the same thing.
Blinds: use harder materials and have slats. Slats tilt open and tilt close.
Shades: make use of softer materials like fabric or sheer. Shades do not have tilt open or tilt close control — in-between control position.
The beauty of the shades comes from vivid fabric choices, rich colors, textures, patterns, and fashion-forward finishes.
What this article covers:
Without further ado, let's witness evolving taste in colors, patterns, and aesthetics with these newer styles of shades.
Pirouette Shades
Do you want shades that gently filter light to surround you with optimal views?
Pirouette shades will do just that and what the name suggests – a full turn on the toe with the raised foot.
An awe-inspiring design of shade from Hunter Douglas allows the fabric vanes to float gracefully — an elegant blend of fabric and sheer.
Fabric vanes open to give you a perfect outside view through the sheer.
Learn more about Pirouette Shades
Silhouette Style Shades
Do you love the natural light deep into your room?
You desire to relax in your own "nirvana" (home) with soft, subtle hues of shades — shades that offer both privacy and outside views.
Silhouette style sheer shadings is your answer to sublime rooms that will invite.
Soft fabric vanes suspend between two layers of sheer — sheer fabric diffuse the sun's rays into natural light.
Tilt the fabric vanes to achieve the privacy you want.
Learn more about Silhouette Shades
Banded Shades / Zebra Shades
A sheer shading layered with an informal twist — a nuanced new look.
Shade alternates between sheer and solid fabric bands in a single shade — stripes of sheer fabric combine with tightly woven bands of fabric and color.
As you adjust the height of the shade, let the sheer fabric protect your furniture and flooring from damaging UV rays while providing a modern solution for view-through. Overlap solid-color vanes to filter or block the light.
It's a roller shade and a sheer shading all in one. No visible seams disrupt the fabric's pattern.
Learn more about Banded Shades or Zebra Shades
Modern Roman Shades
You want to express your own personality through your living space.
One of the ways you express is by creating warm, inviting and beautiful windows. Roman shades help you do that by bringing exquisite fabrics to your decor — solids, prints, stripes, jacquards, and sheers.
Modern Roman shades are timeless. When you pair roman shades with other modern furniture, it stands out and blends in all at the same time.
Choose from two styles of roman shades — classic flat style or richly folded waterfall style. Flat style offers a clean, crisp look to your room. Soft fold style helps you add graceful dimension and volume.
Learn more about Modern Roman Shades
Cellular Shades / Honeycomb Shades
Do you want a stylish shade that will cut the heat build-up from the direct sun?
Look no further! The honeycomb-shaped cells in cellular shades trap air to insulate your home from heat and cold — lower your energy bills year round?
Cellular shades have minimal light gaps on the edges, between shade and window casing. So, the offer excellent room-darkening or light blocking.
Get window covering solutions that are just as stylish as they are beneficial — energy efficiency/savings at the core.
Learn more about Cellular Shades or Honeycomb Shades
Woven Wood Shades / Natural Shades
Your connection to nature is inborn. Choosing natural shade style for windows connect you to your interiors.
Woven Wood Shades are handcrafted with reeds, grasses, bamboo and woods that transform sunlight beautifully — a one-of-a-kind connection with colors, textures, accents, and living experience.
You are inviting natural warmth and beauty to your decor. Balance out the airiness of open concept design with organic, light hues, and rich natural tones.
Let nature play a role in your interiors and window shades.
Learn more about Woven Wood Shades or Natural Shades
Roller Shades
Do you aspire for a relaxed feeling to interiors with minimal lines, and less "stuff".
The roller shade is your "iconic" choice. You can layer textiles in very cozy neutrals.
Even in the most modern rooms, a thoughtful blend of roller shades in deep neutrals and luxe finishing touches can lend beautiful texture and comfort. Mix designs with intricate motifs and woven flourishes.
Bring function with contemporary flair into your interiors — a more relaxed approach to living.
Learn more about Roller Shades
Screen Roller Shades / Solar Shades
Are you looking for shades that will withstand the hustle and bustle of family life, pets and entertaining?
Screen shade or solar shade is a 'merveilleux' choice. These shades protect against glare and UV rays while maintaining the vista outside your window.
Screen shade is easy to clean without showing stains, one that is odor and fade-resistant.
Solar shades are also excellent for exterior spaces such as a balcony, porch, veranda, terrace or converted deck — solarium.
Learn more about Screen Roller Shades or Solar Shades
New style Solera Soft Shades
Solera Soft Shade is a hybrid style shade from Hunter Douglas – Roman Shade design blends with energy efficient cellular construction.
Imagine what happens when you add soft edge shades with roman fabric folds to your windows. You reduce the severity of linear aesthetics in a modern-day home and make the space inviting — character and interest.
The soft folds create pockets that trap air and increase insulation.
Details bring depth and instant coziness to space.
Learn more about Solera Soft Shades
New style Sonnette™ Cellular Roller Shade
Sonnette™ Cellular Roller Shade is a hybrid style shade from Hunter Douglas.
The simple roller shade design is combined with the insulating construction of a honeycomb shade.
Shade brings light into interiors effortlessly. Shade adds to the contemporary details of your modern home, yet don't distract your interiors.
Airiness brings a more relaxed interior to your home.
Pleated Shades
Energize your home decor with crisp looks, colors, and patterns.
Pleated Shades offer privacy and elegant looks to your windows, but with a contemporary flair — crisp pleats for a clean streamlined looks.
Here, you can experiment with bold colors, mix naïve materials and pattern play with textiles to create your own "happy space."
Learn more about Pleated Shades
Are you ready to create a space where you can energize and let go of daily ups and downs?
FREE In-Home Consulting
You can see all the above window blind choices right in your home.
We offer FREE In-Home Consulting for that reason. You get to explore the styles and see it all in your home setting.