Banded Sheer Roller Shades – Check these 3 Facts Before You Buy
Rahul Mehrotra - March 12, 2020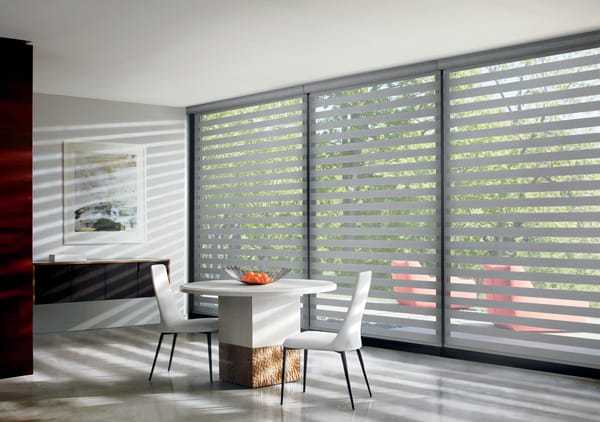 Are Banded Sheer Roller Shades popular in Calgary?
You bet. Banded Sheer Roller Shades offer what you desire. You desire a shading that
is elegant and sleek with no clutter – No Venetian Blinds
offers fabric softness, yet better in style than regular roller shades
is affordable and easy to clean
This style, also called Zebra blinds, score high on all three points.
You blend comfort with functionality.
What is my role in all this? I work with you to pick base colors, use different textures, find similar tones and make your living spaces feel comfortable and welcoming. Also, check how this shade style suits Calgary home windows.
What you need to know about Zebra / Banded Sheer Roller Shades?
I assume you know the style of Zebra Blinds. In case you don't, here is a quick refresher.
Sheer Banded Roller Shades are made using one continuous fabric that combines a soft sheer with a semi-opaque privacy fabric. You control the shade up or down, and the mesmerizing design sequences between soft muted sheer view and light filtering privacy.
When you raise the shade fully, it slides inside the soft fabric wrapped header providing a sleek appearance.
Bands appear one after another. The sheer band allows view-through, and the fabric band allows privacy.
You loop the shade up or down to filter the light and see-through.
This fabric transition from sheer to fabric resembles the stripe pattern on the body of a zebra. So, the name zebra blind.
What are the other names for this style of shade?
You will see many names for Zebra Blinds
Dual Shades
Banded Shades
Dual Sheers
Mandalay Shades
Alternative Style Shades
Double View roller blinds
Double Sheer Roller Shades
Whatever name you use, let's work on your end goal. Let's make your windows and decor look beautiful, warm, rich, and inviting.
Check these 3 things before you buy
Not all shades are made the same. So, do your homework.
You are here to do that. Let me share what I see or know based on twelve plus years of experience.
Keep a keen eye on these factors as you make your decision:
Fabric Band Size
Shades come in three different band sizes-small, medium, and large.
Select a fabric with a band height that suits your view-through preference.
The bigger the fabric band, the greater the view
Small Band:
— Solid band height: 2 7/8″
— Sheer band height: 2″ to 2 1/8″
Medium Band:
— Solid band height: 3″ to 3 1/8″ — Sheer band height: 1 7/8″ to 2 1/8″
Large Band
— Solid band height: 3 7/8″ to 4 5/8″ — Sheer band height: 2 3/4″ to 3 1/4″
Sheer Fabric Mesh Size
As you know, these shades feature a combination of sheer and solid fabric bands in a single shade.
Finesse of the sheer varies with different solid fabric bands – ranging from fine woven sheer to more netting style sheer.
The major determinant is the size of the mesh.
Finer sheer voile is see-through whereas net style sheer mesh has enough body to make it's presence felt.
Fabric Quality
You decorate your home to enjoy simple daily joys.
You strive to get zebra blinds at a competitive price in the market – that doesn't always mean the cheapest.
Spend time assessing the shade quality and avoid future discomforts.
How your zebra blinds put energy into your daily life — natural daylighting, ability to see-through, open feel — are more important than possessing them.
I give two examples whereby
Shade fabric failed once it's in use





Poor quality fabric or flaw in fabrication will cause the fabric to fray on edges.

I related to the discomfort in the voice of a homeowner while showing me the following. Also, to top all that, the big box store that provided the shade did not fix the issue. 

Roller Blind Fabric Fraying — Sheer fabric is delicate. Make sure you get zebra blinds made by quality suppliers. Do your diligence.

Sheer fabric is both delicate and supple. The good quality supplier uses laser cutting for textile that ensures the cut & seal process for synthetic fabrics. What you get are the exact cutting edges.
Shade fabric flawed from the get-go





The picture below shows the waviness in the fabric. This is because of the fabric distortion or imprecise cutting of the fabric.

Banded Sheer Roller Fabric — Banded Sheer Roller Fabric — Flaw in the fabric may cause the waviness in the banded shades as you move the shade up and down — Not a good aesthetic
Bottom Bar Finish
Bottom Bar finish is the cherry on the cake for all the effort you put into selecting a shade for your home.
You have two types of finishes — fabric wrapped or color-coordinated painted finish.
What is your aesthetic appeal?
Free In-Home Consulting
When we meet in your home, you get to see different styles of shades in action.
Having clear ideas about shade styles helps match the right choice for the specific needs – room darkening, kids safety, and aesthetics.
Are you ready to see the hand samples of modern day window covering choices?
Schedule our FREE In-Home consultation.
Banded Sheer Roller Shades are made by all the leading suppliers in the window coverings industry.