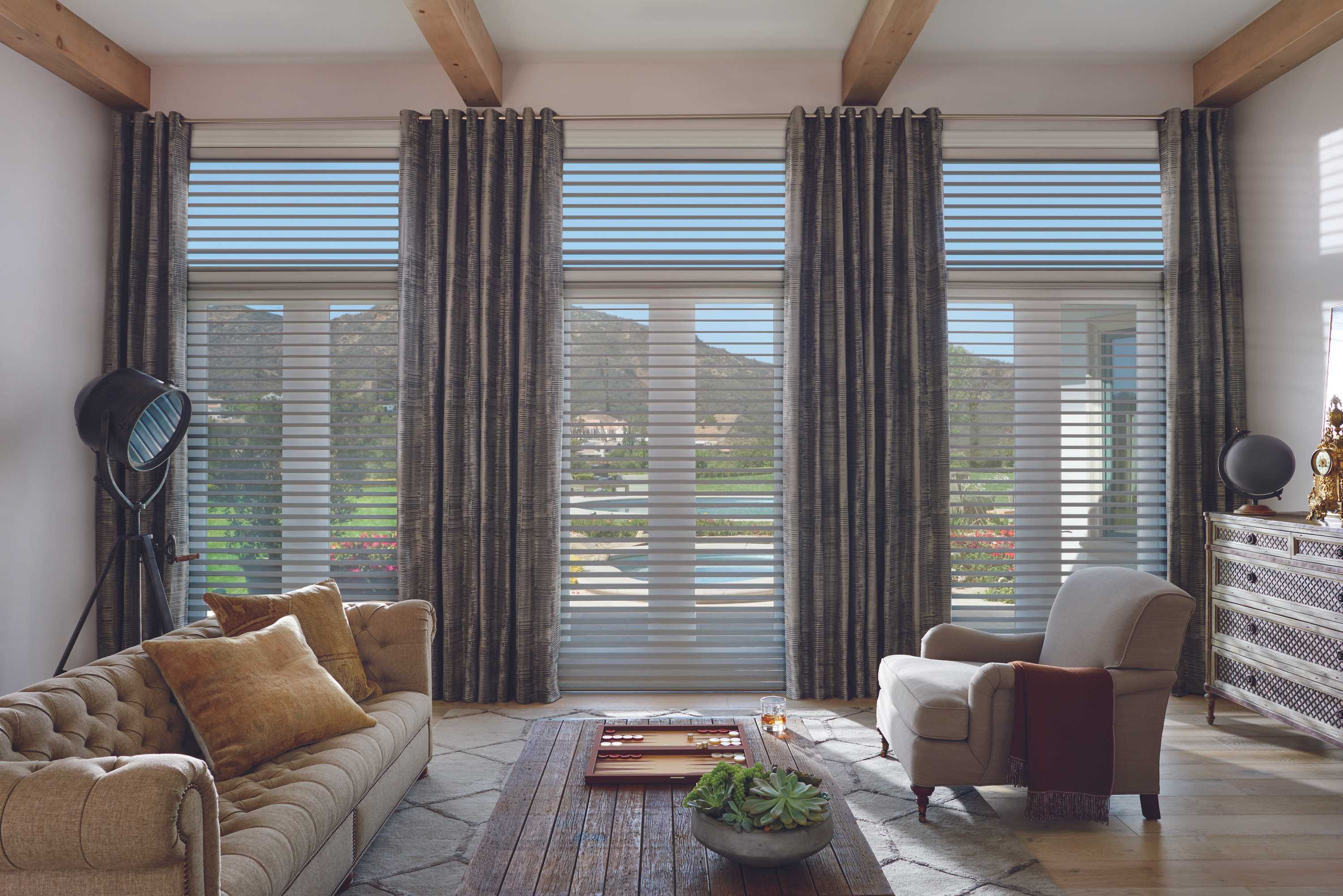 Silhouette Shades
Let The Sun Shine In Your Home — Elegant Style Sheer Shadings
Silhouette Shades are the style of blinds that nurture the sunlight into your room — a unique blend of fabric, sheer, and tilt open-close function.
The word "silhouette" implies the outline of a form. True to its meaning, this window covering style melds fabric and sheer to create a seamless effect on your windows — no gap to your view of the outdoors.
The thought reminds me of the Sufi saying,
"The sun can only be seen by the light of the sun." (Farid Attar)
Likewise, the beauty of your Calgary home, the choices you made, and the mood of the room all permeate in the sun's light. Let The Sun Shine In Your Home.
What this page covers:
What are Silhouette shades?
Silhouette Shade is a fabric shade with S-shaped vanes that appear to be floating between two sheer fabrics.
The bigger question is: Why should you get this style of blinds for your home windows?
I reckon with:
Fill your room with natural light — Sheer fabric beauty
Bring fabric elegance, the richness of texture, warmth, and color to the inside
Preserve outside views while enjoying daytime privacy.
Tilt Open and Tilt Close — adjust natural light to your exact preference
Filter out the glare and UV rays — reflect solar heat
You will see what I mean in the picture below:
Silhouette shades are all about sheer beauty. They have become synonymous with sheer-shades.
How do you open the fabric between two layers of sheer?
The shade comes all the way down before the fabric vanes open.
When you lower the shade part way, you can not open the fabric vanes. After you lower the shade down to the window sill, the vanes will open — beautifully diffuse the light into your room.
The video below will show what I mean.
The plush feel that S-shaped fabric vanes of Silhouette Shades bring to your home decor is graceful — truly posh.
I want to show you the close-up of the fabric-vanes and sheer.
You tilt open the fabric-vanes and woven sheer fabric laces the window with wide-open view-through and opulent style.
How Silhouette Blind manages light and privacy?
The wow-feel impression of Silhouette shades results from the refined sense of inbuilt design — the simple movement of the fabric vanes solving the complex problem of light and privacy control.
You have four modes of light and privacy control with this style of shade:
View-Through with Daytime Privacy
Does beauty necessarily go along with pleasure? As you will see below, this style achieves that harmony.
Afford yourself the luxury of having light and privacy at the same time.
A white rear sheer obscures the view into your home, providing daytime privacy even when the vanes are open.
Shades offer the unobstructed outside views. No cords or tapes run through the product to hinder outside-views.
The shadings can filter up to 88% of the sun's harmful rays.
Want Superior view-through — ClearView®
When your view is most important, you opt for ClearView® shadings.
Silhouette ClearView® shadings offer superior view-through combined with light control.
ClearView® features a black rear sheer fabric on all shades, which allows more view into and out of the home.
ClearView® is the preferred choice when you want superior view-through — specialized front and back sheers maximize your view of the outdoors.
Shielded Privacy — Light Dimming
You tilt close the fabric vanes, and design-inspired fabrics provide a shield against the light.
You have two choices, as your fabric-vanes close:
Translucent Privacy — full privacy with the beauty of crafted fabrics and the soft glow
Light Dimming — fabric dims out the light further for added comfort and discreet control, a consideration for bedrooms.
Silhouette shade is beautiful because of its purpose and use. It transforms the space.
Bedrooms Light Blocking – Duolite® System
When room-darkening is important, you choose the Duolite® option.
You crave for darkness as a cue for your body to rest and sleep.
Duolite® system combines a front translucent Silhouette shading with an integrated room-darkening roller shade into a single shade.
Choose Dual Roller System when you want no untimely wake-up messages to your brain. You ain't no ready.
Now, you can have the best of both worlds. The Silhouette shade sits in the front and diffuses harsh sunlight. The back roller shade provides light blocking for better sleep or more.
Let's see this system in action:
What are the fabric choices for Silhouette Blinds?
When we meet, you will choose from an array of fabrics — varying in richness, texture, color, and warmth.
Everything is designed to be seen, touched, experienced. Loved.
I will showcase a handful of fabrics to give you a sense of beauty and style to your home.
Classic-woven fabric
Silk-like fabric with coloured sheers
Nature-inspired fabrics
Horizontal textured vanes with coloured face sheer
How do you operate Silhouette Shades?
You have more than one way to do it.
From the click of a button to a cord pull, you have five ways at your disposal.
Let's explore each with pictures:
Automation — iPhone or Android App
Take control like never before.
Operate Shadings from your smartphones, tablets, or a remote control or voice control.
Schedule to operate shades automatically, whether home or away.
Battery Powered Motorization
Battery-powered system that enables wand-controlled operation.
Gently pull down on the wand to lower shadings and push up to raise them.
Retractable Cord System
Single retractable cord system for enhanced child safety
One click allows the shading to lower and open automatically.
Cordless — Hand driven
A gentle push-up with your hand will raise the shade and a pull-down will lower it.
The shadings stay right where you put them.
Cordless system offers child and pet safety benefits.
Continuous cord loop system
This system features a loop that remains the same length no matter where you position the shading.
The cord mounts to the window frame for enhanced child safety.
How do you clean Silhouette Shades
Dust front sheer fabric with a feather duster or use a hand-held vacuum with low suction.
Blow out dirt and debris from between the vanes using compressed air or a hand-held hair dryer on the COOL setting
What is the warranty on blinds?
Enjoy the peace of mind with Limited Lifetime Warranty on these blinds.
I strive to bring you the greatest possible enjoyment, adding beauty and style to your home.
If you are not satisfied, I will make sure shades work to your satisfaction.
How can I get Silhouette Shades? — Shop at home convenience
You need to see these shades in your home. Then, you can coordinate with your wall colors, flooring, and other furnishings.
When you do that, we value your time and efforts by
showing all that you need to see — working hand samples, fabrics, style books and more
sharing expert advice — little details are vital
measuring your windows for perfect fit
providing an EXCLUSIVE estimate
When we meet, I discuss these methods and more with you. What are you waiting for – Schedule our Free In-Home Consultation.