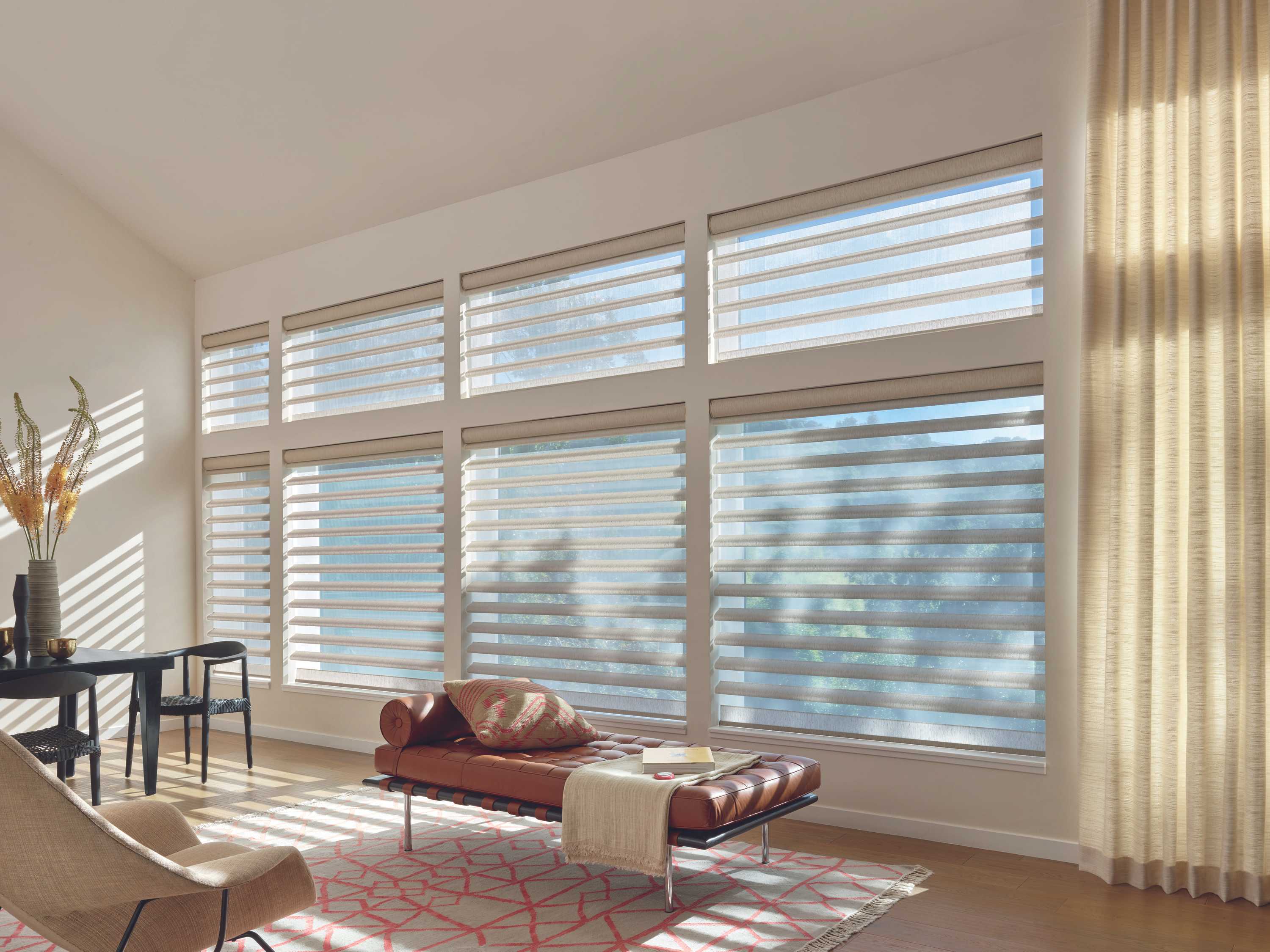 Pirouette Shades
An inspiring design for a shade — an exquisite uplift to your décor
Pirouette Shades from Hunter Douglas embody a unique, artistic design that you cannot help but be amazed by.
I assume you heard about the art of Pirouette — a whirling about on one foot.
Can a blind do that for your windows in the Calgary area home?
"It always seems impossible until it's done," (Nelson Mandela)
Let's go over this warm, inviting, and one-of-a-kind window covering style — exclusive to Hunter Douglas.
What this article covers:
What are Pirouette shades?
Pirouette Window Shadings is a modern alternative to fabric shades — clean lines, graceful effect, and elegant design.
Soft, horizontal fabric vanes attached to a single sheer backing.
Sheer backing allows for enhanced outside views.
You have the full beauty of the fabric appear on the inside.
Available in light-filtering and room-darkening opacities
A picture will imprint this design idea in your mind. So, let's take a look.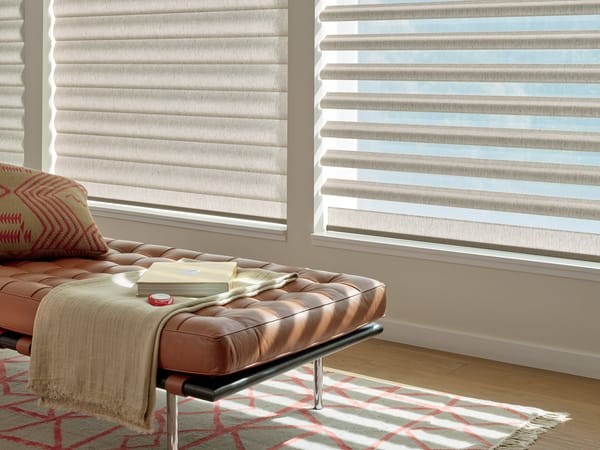 All in all, you have a face-fabric and a sheer rear fabric, and the two fabrics interlace using a unique design.
Let's discuss that next.
How do you open the face fabric to allow view through the sheer fabric?
The answer is the innovative design — invisible strings. The innovative Invisi-Lift™ system suspends the soft vanes.
The beauty of innovation – Invisi-Lift™ strings — is woven into the fabrics such that they disappear into the sheer fabric backing.
You lower the shade fully, open the face fabric to form vanes, and allow view-through the sheer fabric.
You can raise the shade completely into the headrail for the unobstructed view.
Invisible strings uplifting the decor is a stretch of the imagination. How can you do that?
"It always seems impossible until it's done,".
Still, your alter ego may say how can strings be not seen and still uplift.
The invisible string system consists of clear strands that operate the horizontal fabric vanes.
Watch for yourself
How can I get view-through and privacy from Pirouette Window Shadings?
You have a shading with beautiful fabric vanes that float in the window on a single back sheer.
The vanes float — no obstructing cords or tapes hinder your view-through. Beautiful fabrics curate your privacy and offer dramatic softness.
Achieve Perfect View-Through
You open the vanes to provide an unrestricted view to the outside through the sheer.
Invisi-Lift system opens and closes the fabric vanes without obstructing views.
Want even more View-Through – let's talk Pirouette Shades ClearView® Option
You can opt for Pirouette Window Shadings with ClearView®. Shadings offer unparalleled views to the outside.
Pirouette ClearView® shadings use a specialized black sheer that provides a superior view-through. The option is available for select fabrics.
ClearView® black sheer disappears virtually at the window — The vanes look like they are floating!
All other Pirouette fabrics offer more privacy, even with vanes open with the sheer that softly filters light.
See the comparison below
Achieve a discreet level of privacy inside
You flatten the vanes for a smooth, contemporary finish and maintain a discreet level of privacy inside.
You slightly raise the vanes for a gentle contoured look, while still maintaining privacy.
The light-filtering fabric gently diffuses the sunlight into your room along with the light control and UV protection.
Achieve room-darkening
The face fabric can have a light-filtering or room-darkening liner.
You flatten the vanes for the precise light control into the room.
All fabrics, colors, and vane sizes available in both light-filtering and room-darkening opacities.
What are the fabric choices for Pirouette Shades or Blinds?
Choose from ten beautifully textured fabric styles — Ninety-six color options in total
Ten distinctive core-line fabrics offer an array of on-trend colors and textures
Satin —

a smooth fabric, semi-formal feel; 24 colors

Stria —

a light fabric with crisp clean lines; 6 colors

Satin Metallic —

subtle fabric with an unexpected shimmer; 12 colors

India Silk —

a softly slubbed, silk-inspired fabric; 6 colors

Shantung —

look and feel of raw silk; 9 colors

Linen —

a timeless fabric that creates a casual ambiance; 9 colors

ClearView® Satin —

semi-formal fabric featuring ClearView® sheer for enhanced view-through; 12 colors

ClearView® Satin Metallic —

sleek and subtle fabric with unexpected shimmer featuring ClearView® sheer for enhanced view-through; 6 colors

Serene —

a casual, horizontal slub texture in calming colors; 6 colors

Grant —

linen-inspired, natural-looking fabric with a vertical texture; 6 colors
How do you operate Pirouette blinds?
Your choice — four proven operating systems
Automation:
Use a hand-held or wall-mounted remote
Or, use a mobile app or voice control to operate your shades.
Battery-powered system controlled by a wand:
Gently pull down on the wand to lower shading.
Push up on the wand to raise it.
Features battery life up to two years (dependent on shading size and usage).
Cord Loop Control System:
Pull down on the rear cord of the cord loop to lower the shading.
Pull-on the front cord to close the vanes and raise the shading
Retractable Wand Operation:
One-click drops the fabric panel for complete privacy.
Pump the wand to open the vanes or raise the shading.
How do you clean Pirouette blinds?
For routine cleaning, dust with a feather duster or vacuum lightly using a hand-held vacuum — non-heat setting.
For more thorough cleaning, professionally clean ultrasonically or by using the injection/extraction cleaning method.
Who install your blinds?
When you approve us to cover your windows, our team of professional installers take the full ownership.
Apart from drilling holes and putting screws. our installers know how to handle the details and fix issues on site for you.
Challenges happen, but what matters is how they get resolved.
On that note, let's talk about warranty on blinds.
What is the warranty on blinds?
You have Limited Lifetime Warranty on these blinds.
I want you to be satisfied with your window coverings choice, as I align with quality suppliers.
If you are not satisfied, I will make sure shades work to your satisfaction.
How can I get these blinds? — Shop at home convenience
You need to see these shades in your home. Then, you coordinate with your wall colors, flooring, and other furnishings.
Schedule our FREE In-Home consultation.
When we meet, I value your time and efforts by:
showing hand samples, fabrics, style books and more
sharing expert advice — vital details
measuring your windows for perfect fit
providing you with an EXCLUSIVE pricing estimate
What are you waiting for – Go ahead and Schedule our Free In Home Consultation.