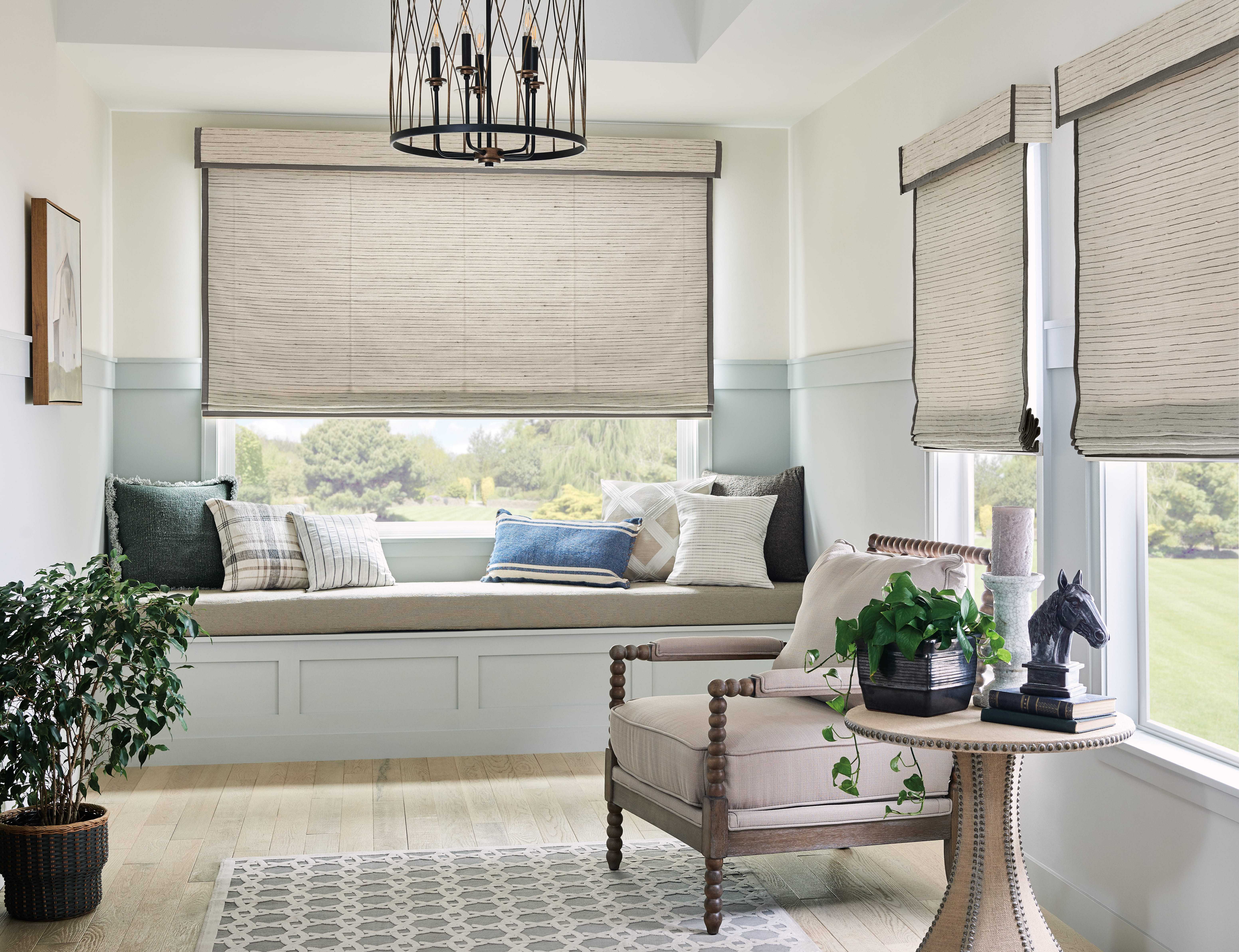 Woven Wood Shades
Use unique textures found in nature — Bring the outside in
Woven wood shades on your windows is a style of blind that brings the beauty of natural textures to your home decor.
What is one of the most striking trends in home design in the Calgary area?
The answer is organic-modern style. This style embraces modern architecture and adds layers of natural and organic materials to create a comfortable, cozy feel to your home.
The secret ingredient of organic-modern homes is how design achieves clean lines (the modern) while adding natural textures and fibers (the organic) — textures add warmth, comfort, and nuance to your room.
"A subtle amount of texture attracts the eye. " (Clyde Aspevig)
How about a quick video before we get into all the details:
Are you ready to add the depth of textures and appeal of natural elements to your room with woven wood blinds?
What this article covers:
What are Woven Wood Shades?
The woven wood shade is a roman style blind crafted from natural woods, reeds, bamboo, and grasses.
Natural materials, like bamboo, reeds, grass, and jute, are tightly woven together to create an intricate design — an aesthetic that is both earthy and relaxing.
The beauty is in the detail of the weave — all with the natural colors and textures.
You choose from a collection of refined weaves that range from sheer to opaque — filter sunlight beautifully and offer desired privacy levels.
You have three (3) choices for how the shade appears in the fully lowered position:
Standard Roman
Waterfall Roman
Looped Roman
Top-Down and Bottom-Up Woven Wood Shades
A majority of homeowners in the Calgary area, looking for window coverings, ask for the Top-Down feature — highly desired, you will love it.
Let in natural light while maintaining privacy by lowering the shade from the top.
Or, lift the shade for a full view of the outside.
The Top-Down Bottom-Up feature suits the whole theme of creating inviting spaces that are warm, natural, and effortlessly sophisticated.
You harmonize natural, sustainably produced fibers such as cotton, bamboo, seagrass, and jute into your modern lifestyle — make your home feel cozy yet modern.
The top-down feature connects you to the outdoors in an earth-friendly style.
What are your opacity choices — view-through and privacy?
The prime functions of a shade or blind are to filter sunlight, offer privacy, and control light.
How woven wood blinds offer privacy and light control?
Let's delve into the functional aspects of this style!
You choose from the four(4) opacities, depending on your choice of fabric.
Sheer
Semi-Sheer
Semi-Opaque
Opaque
What are the fabric choices for woven wood shades?
Woven wood shade fabrics delight you with three features:
"Texture and pattern should function as a surprise." (Robert Denning)
You have a splendid assortment of fabrics to choose from.
I will showcase few fabrics.
Wood & Bamboo
Grass & Reeds
Reeds & Sticks
Grays & Bright neutrals
Knots & Weaves
Adding a liner to the blind — Your choices
You have the option or choice to add liner fabric to your woven wood blind.
Why do you add liner material to your blind?
Liner fabric behind woven fibers serves a few important pursuits:
You have four(4) choices for adding a liner to your fabric weave.
No Liner
Add Privacy Liner
Choose Room-Darkening Liner
Independent Operable Liner
Edge Banding
Vertical Natural Shades for patio doors — an elegant style
You have two (2) choices for wide windows and sliding glass doors.
Vertical drapery
Vertical drapery made of natural fibres — natural wood, reeds, bamboo, and grasses — is a beautiful solution for wide windows and patio doors.
Gentle fabric folds bring an added dimension to a room.
Natural drapes feature the rolling qualities of drapery in vertically oriented natural shade material.
Sliding Panels
The familiar question is:
What are your choices for sliding-glass doors beyond traditional vertical blinds?
The answer is a sliding panel design as it features a slim profile and a thoroughly modern look.
Sliding panels are handcrafted from intricately designed woven fabrics and lighter weight materials — rich in texture and sleek design.
"The color, the shape, and the texture—none of it is accidental." (Tim Gunn)
You choose how to stack natural drapes and sliding panels — left, right, or center — for the best use in your space.
How can I get these blinds? — Shop at home convenience
You need to see these shades in your home. Then, you coordinate with your wall colors, flooring, and other furnishings.
Schedule our FREE In-Home consultation.
When we meet, I value your time and efforts by:
What are you waiting for – Go ahead and Schedule our Free In Home Consultation.