Are Zebra Blinds good for Calgary homes?
Rahul Mehrotra - March 22, 2020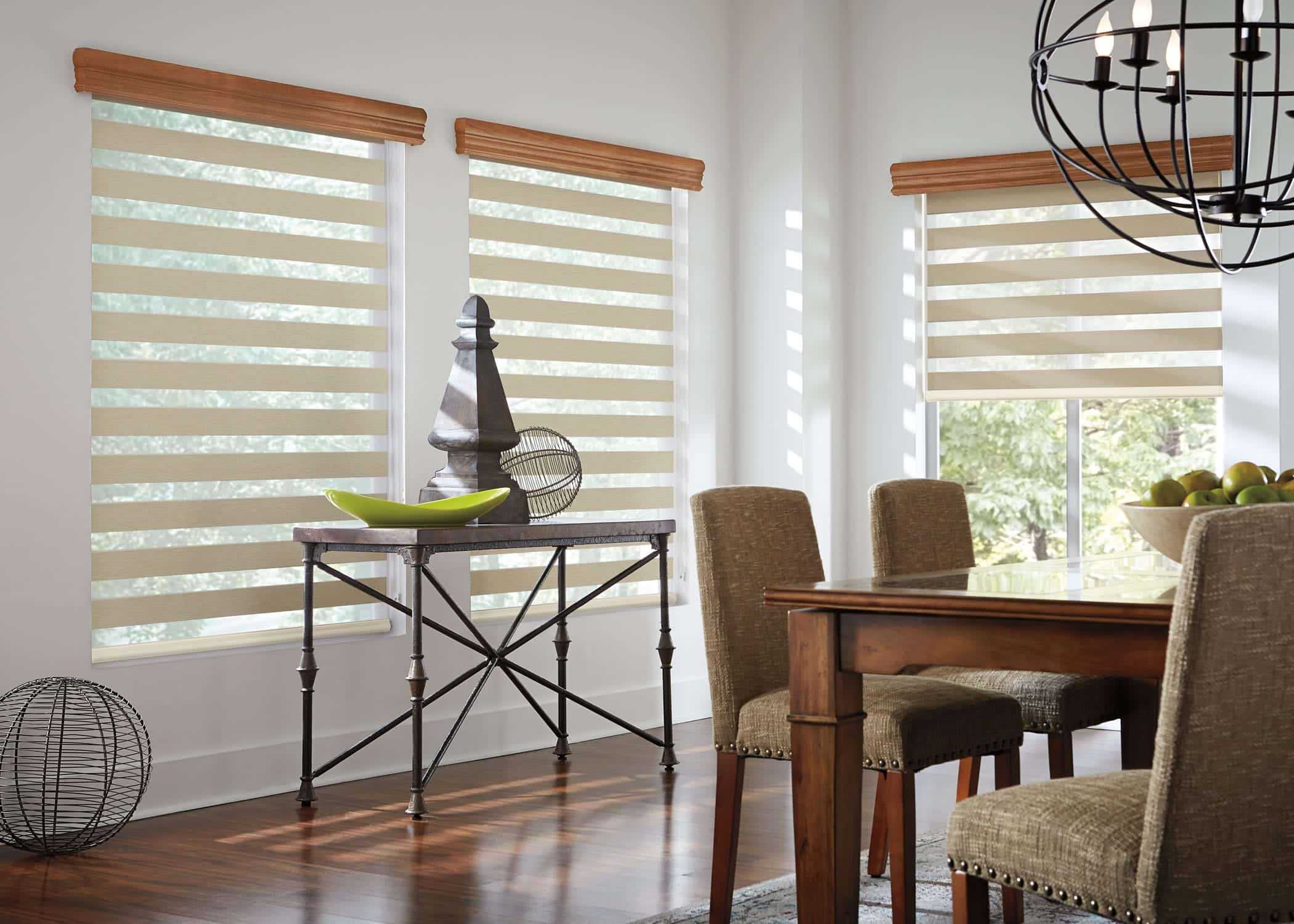 Should I get this style for my home windows?
A quick refresher — What is a Zebra Shade? What are Zebra Blinds good for?
A modern style of shade made of beautiful fabrics. Shade fabric transitions from view-through sheer to more privacy, as you move the shade up or down.
Two for the price of one, you get both sheer elegance and soft fabric textures in one shade. Do you desire a roller shade that can also be a sheer shade?
The sheer and fabric lines are sleek and offer a contemporary solution to horizontal blinds.
The fabric portion — zebra-like stripes — lines up to offer privacy and light control. Roll the shade, sheer part lines up to allow daylight and view outside.
If you are looking for custom blinds made to fit your window sizes, check out our 3 facts before you spend your hard-earned moola.
Zebra Shade Style — Motorized or Side Chain?
You want as much natural light to come into your rooms. This style allows that. Transition the natural light levels from see-through to translucent to more privacy.
You ask — How to maneuver the shade?
My answer – get motorized blinds. In year 2020, who wants those side chains?
Control by your fingertips. Let the experience of modern-day motorized blinds delight you.
You operate the shade using a handheld remote, power wand, your mobile phone, or even, voice control. Control choices will meet your present-day lifestyle.
Once you feel the comfort, it stays with you.
Using a side chain is still a standard option, but you will be hard-pressed to upgrade when you learn how cost-effective it is for the worth you get.
I read this quote, and it stayed with me.
"It's unwise to pay too much, but it's worse to pay too little.
The style is an elegant addition to any room — living room to bedroom windows.
Ok, you say looks just are not enough, show me the chemistry, passion and a shade of substance.
Living in Calgary:
Our window sizes are bigger.
We get cold temperatures/window condensation.
Summer or winter, the Sun shines directly in your eyes through certain spots — glare and heat control.
Are Zebra Blinds good to cover bigger window sizes?
I go to new homes in Calgary, and I see ever-increasing sizes for our windows.
One question I get — Can we do this window as one continuous shade?
The maximum width of a Zebra style shade for most of the fabrics is about 9 feet. The maximum height is 10 feet. Yes, we can do bigger size windows as one continuous shade — 9 feet wide x 10 feet in height.
Having a continuous flow of fabric across the whole window width looks streamlined, but there are fabric size limitations.
We split the shade for other practical reasons — independent control, ease of use and window portioning.
Are Zebra Blinds good for colder temperatures?
The answer is, it depends. Depends on what?
I say it depends on:
What insulation levels you desire? and
How it helps with condensation issues?
Zebra shades offer insulation or reduced heat loss from the windows because of layering. Keeping your home warm means stopping the transfer of heat from inside to outside.
Trapping air in layers is great to insulate your windows. Zebra blind does that, as it provides a layer between the blind and glass. Air is a good insulator and reduces the flow of heat through it.
What about condensation?
Condensation on Calgary Windows is a natural process — warm air inside collides with a colder surface outside. Upon contact, the warm air inside loses its ability to hold as much moisture and leaves some on the glass.
Blinds don't cause condensation, as they do not produce moisture or heat.
Still, the trapped air between the blind and glass may play a contributing role. What can you do? Improve airflow and circulation.
Zebra blind assists in improved airflow and circulation, as the shade is made of sheer voile fabrics. The open weaves of the fabric allow air to flow easily and help in keeping your window frames dry.
Are Zebra Blinds good for glare and heat during summer?
Zebra blinds shield you from the intense heat from the sun and is an excellent shading solution.
Don't let your home gain too much heat during summer.
Otherwise, your home comfort systems, be it home ventilation or air-conditioner, will have to work harder than necessary. Did I say higher energy bills?
About 76% of the sunlight that falls on standard double-pane windows enters to become heat.
Zebra blinds transition from sheer fabric to shade fabric. You enjoy the filtered light through the sheer fabric during the early morning hours in the summer.
As the day progresses, solar heat intensifies, and your transition from sheer to fabric shade blocks the heat from direct sunlight.
A gentle roll of fingers on a remote button or a slight pull on the side chain will do the job.
Free In-Home Consulting
I am sure you have more questions. Also, you want to see this style of shade in action. Free In Home Consulting is the best way to achieve that.
All the blinds are made for perfect-fit to your windows. So, I need to do exact measurements of your home windows. When we meet in your home, you get to see different styles and we discuss in-depth.
Having clear ideas about shade styles helps match the right choice for the specific needs – room darkening, kids safety, and aesthetics.
Are you ready to see the hand samples of modern day window covering choices?
Schedule our FREE In-Home consultation.
Zebra Blinds are made by all the leading suppliers in the window coverings industry.