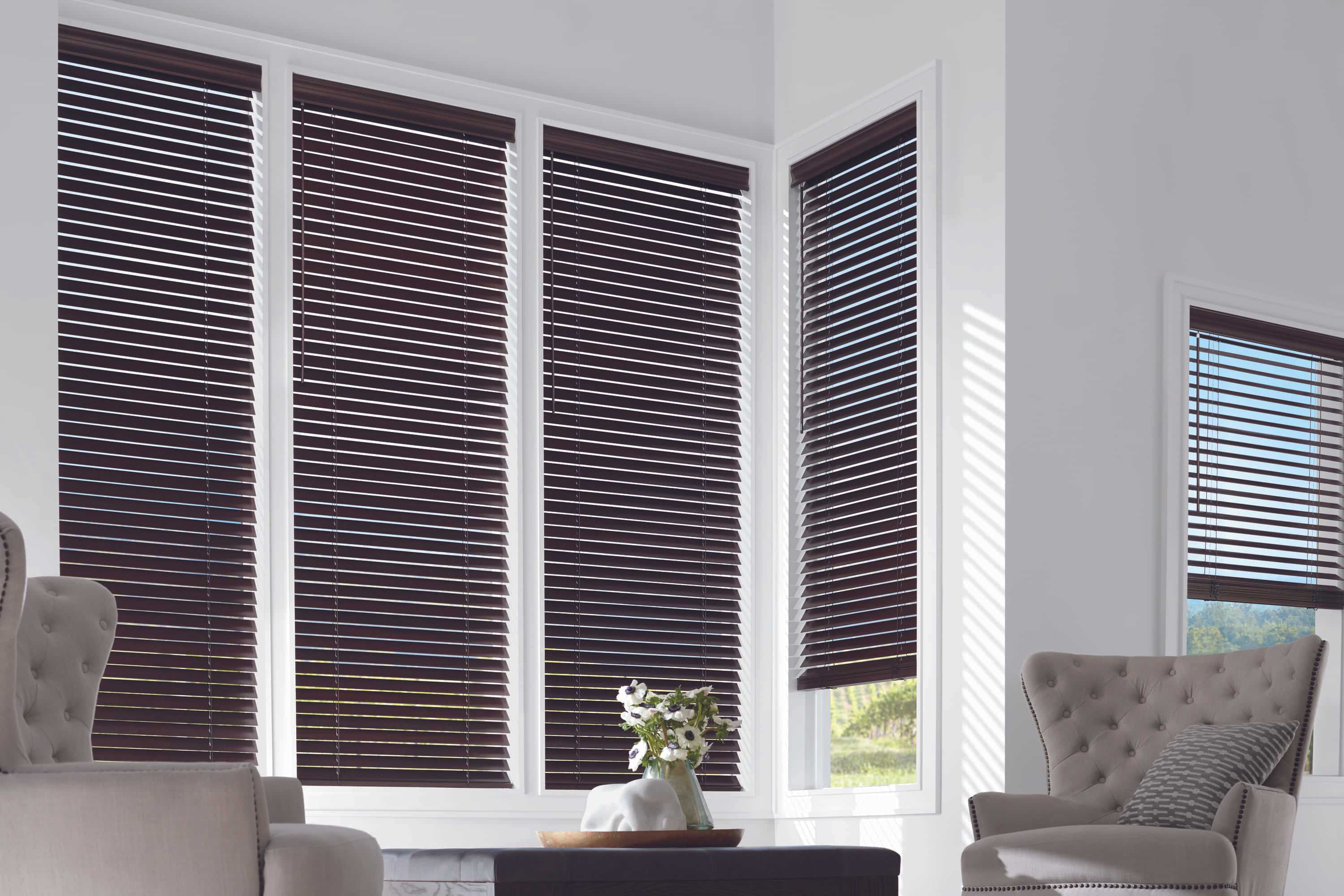 Window Blinds
What comes to your mind when you hear the word Window Blinds?
I bet the word evokes the images of slats, one above another, moving up or down in unison. The term "Venetian" may flash in your memory.
Your model of window blinds is consistent with mine. Let me add three more defining elements to make this image vivid
You tilt-open and tilt-close the slats.
Slats are usually made of wood, aluminum or synthetic material.
Modern day blinds come in beautiful finishes to create a warm and inviting home decor.
You get degrees of light and privacy control from slat style window coverings. Slats operate at an angle to let in more or less light (more or less privacy).
Window Blinds vs. Shades
You will find the term window blinds and window shades used interchangeably. I prefer the distinction between them. Window shades use a soft material instead of slats.
In case of window shades, you roll the shade fabric up or down. There is no tilt-open and tilt-close position.
Slats offer intermediate positions—tilt-open and tilt-close the slats.
Window Blinds Choices
Blind choices vary based on the slat material—wood, synthetic material or aluminum.
Wood Blinds
Do you gravitate towards natural beauty?
Slats made from real wood are nature crafted. Each hardwood slat features a unique fingerprint—whorls, knots, and grain.
With wood blinds, you set the tone for your living spaces—from rustic to ultramodern. Wood blinds charm your decor with visible wood grains, rich stain colors and natural warmth.
Composite Wood Blinds
Do you strive for a smart alternative to wood slats?
Composite Blinds are made of modern materials that offer enhanced durability. Slats will not fade, yellow, warp or bow.
If you want the appearance of wood in rooms with high humidity, composite wood blinds is a beautiful choice.
Learn more about Composite Wood Blinds
Faux Wood Blinds
Do you want an affordable alternative to wood blinds?
Faux-wood blinds offer a sturdy and cost-effective choice for your windows. You have the choice of both solid colors and wood grain colors.
They are great for high-humidity areas such as kitchens, bathrooms, or laundry rooms.
Learn more about Faux Wood Blinds
Aluminum Blinds
Do you want a basic level of privacy and light control?
Aluminum blinds offer good light control and clean, streamlined looks.
Modern-day Aluminum blinds differ from the commonly held idea of "Venetian Blinds". You will find special finishes, textures, and sleek range of color hues.
Learn more about Aluminum Blinds
Vinyl Blinds
Designer vinyl choice offers extra- thick PVC slats for improved privacy, durability, and energy efficiency.
Vinyl blinds pair well with Vertical Blinds.
Vertical Blinds
Vertical vanes move from side to side rather than moving up and down.
When you traverse vertical style window coverings to one side, you get the most unobstructed view. This makes them great for patio door openings with sliding doors and other wide expanse windows.
You have three choices for vertical vane material – fabric, sheer, or vinyl vanes. They form a perfect top-to-bottom solution.
Learn more about Vertical Blinds
FREE In-Home Consulting
You can see all the above window blind choices right in your home.
We offer FREE In-Home Consulting for that reason. You get to explore the styles and see it all in your home setting.
Are you ready to see these style of blinds in your home? Schedule our In-Home Consult and explore beautiful choices.