Bad Days Happen – Say Yes to Cordless Blinds and Keep Your Little Ones' Safe
Rahul Mehrotra - December 14, 2019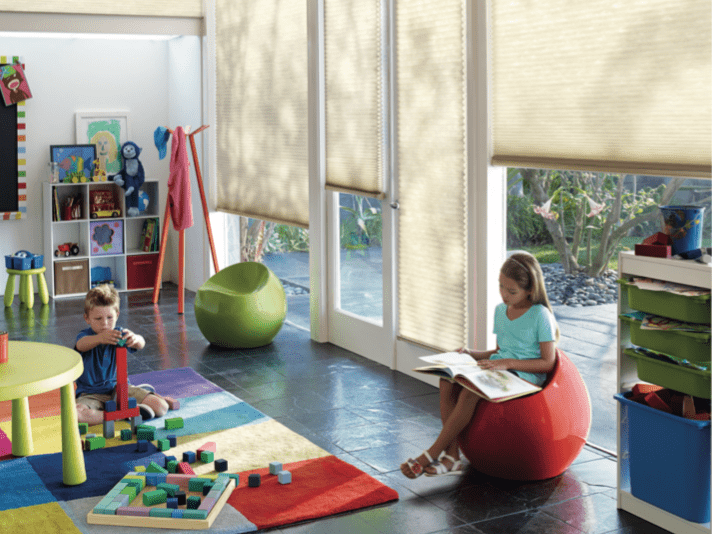 Good-Better-Best Options for Cordless Blinds –
Parents, please choose Cordless Blinds, period.
Time has come to pull the plug on corded blinds.
You get the idea—no cords getting wrapped around a child's neck. Window blinds cords are the "hidden hazards" in the home.
You check for sharp edges, seal-off outlets, and prevent little hands from touching hot surfaces. In midst of all, your child's curiosity is natural and so is your divided attention.
A dangling cord appeals to your kid's craving to see and take part. Here's where the hidden hazard, dangling cords, become serious if not so grave.
No Fear-mongering
I am a dad of two young kids and I can't live in a state of fear all the time.
You want your home to be a safe and enjoyable place for the family. You do best to cut back on the risks for the likely hazards.
No home is 100% safe and vault-dwelling is no way to go through life. Say no to fear-mongering. Fear-mongers fixate us on our anxiety rather than solutions.
The scene of window cord strangulation is gruesome for my stomach. So, I will not present any images, videos or data to support that, rather I will focus on the solution. Cordless Blinds is the solution.
Paving way for Cordless
Is the danger of dangling cord new?
I became curious to know the cord related challenges faced by moms who had kids in the 1960s, '70s, and '80s. My sidetrack led me to find some gripping findings.
For one, moms of 60s, '70s, and '80s had to deal with the cords of telephone devices. Telephones and televisions were gaining widespread use in everyone's life.
Was the telephone cord a hazard then? You bet.
Baby sucking the cord and getting hurt was a scare for parents. On that note, please don't leave plugged-in phone chargers lying around the house.
Did we go cordless with our phones?
Leashed to the wall while talking was not fun. Also, mom wanted to avoid tripping over the cord. A child may raid through closets and drawers while mom was on the phone. A cordless phone relieved her fears she might lose track of the child or miss an important call.
Did cordless phone solve the divided attention issues with Dad? You be the judge.
I digressed. But, you know bad days happen, magic also happens.
The good news is that you are already on-board with the move to everything-cord-free or cordless around your environment. Dyson has announced it will only make cordless vacuums from now on.
The concept of cordless kitchen is making new headways in food preparation and cooking convenience. Wireless cookers and wireless blenders of the new era are powered simply by placing them over magnetic power sources that are built into a counter, cooktop, or table.
So, time to embrace cordless blinds.
Bid farewell to a nappy tangle of cords ugly-in' up your home. Enjoy a convenient and more secure experience with your cordless window coverings.
Good-Better-Best for Cordless Blinds
The quote below keeps rhyming in my head, so let me spell out.
Good, better, best. Never let it rest. 'Til your good is better and your better is best'
Best Cordless Operation – Motorized System
You can alter light and set the mood in your home with the press of a button or tap of a mobile device.
You can operate many shades from one remote. When you opt for motorized cordless blinds, you uphold the most flexible control of window coverings throughout your home.
Motorized blinds and shades create a safer environment for young children and pets.
Why the motorized system is best?
Apart from offering no cord operation, motorized blinds and shades are intelligent.
You can control shade or blind remotely by a time schedule, from any room in the home, as well as remotely from any location in the world by phone or internet.
Better – Manual Cordless System
Simply, use your hand to guide the blind or shade up or down—this popular, option removes the need for cords
The manual cordless system lets you push up with your hand to raise the shade and pull down to lower the shade.
A refined design makes Cordless Blinds so effective. The design holds blinds and shades in the position where you left them—no going back and forth to adjust the blind.
The big benefit is no lift cords, safe for both children and pets.
Good – Hide the Cord Systems
I know few inspired designs that either hide the cords that form a loop or break apart under weight.
The intent is sincere—make window treatments safe for homes with infants, young children, and pets.
Retractable Cord or Wand Design
Hunter Douglas has a retractable cord design. This design allows the cord to retract back to its original length. You pull the cord that raises or lowers the shade, then cord retracts back.
This design has two distinct features that offer enhanced child and pet safety—single cord and constant length cord. Single cord avoids dangerous loop scenario, and the single cord retracts back to maintain a constant length.
You ensure safety by choosing the original cord length to be high up. A toddler should not be able to reach the cord even if they are standing on a bed or other furniture, or if they are climbing.
Now, you can also get the retractable wand system that uses the same design.
Avoid Cord Loops
The design of using a wand to hide the cord or chain is not new. I have seen a few versions of this design.
The wand conceals the exposed chain. Children cannot access the chain as a free hanging loop, thereby no risk of strangulation. Kids can no longer access or get tangled in exposed chains.
You still operate the shade using chain. You can either use a crank to do so or reveal a small section of the chain.
The solution is reliable and low cost.
Breakaway cord connectors
A curious, playful baby or toddler find ways to make a noose out of window blind cords.
One way to avoid the risk of forming a looped cord is to use breakaway cord connectors. As the name suggests, connectors breakaway after a certain weight limit. You can then grab the breakaway pieces and assemble again.
This design is an improvisation rather than grounds-up. It will not make your shade or blind cord-free, but it avoids the danger of the cord becoming a noose
Breakaway cord connectors are standard with most modern day blinds and shades.
Safer Window Coverings
Safer window coverings is a top priority for us all.
Why I discussed Good-Better-Best Options for Cordless Blinds?
You visit SeaWorld, chances are you choose amongst an array of options ranging from Shamu (good), Shamu-Plus (better), and Shamu-Premium (best). In either case, SeaWorld is a no-miss experience for families with kids.
Cordless Blinds are no-miss safety element for your home. Say yes to remove exposed cords off of all your window coverings.
I request you to make your friends and family aware of this message. Make people aware of solutions to make window blinds safe.
Do your best to create a safe home. Above all, don't let your fears prey on natural insecurities we all have.
Our window blinds are made by the leading suppliers in the window coverings industry—Hunter Douglas, Shade-O-Matic, Graber and more!!