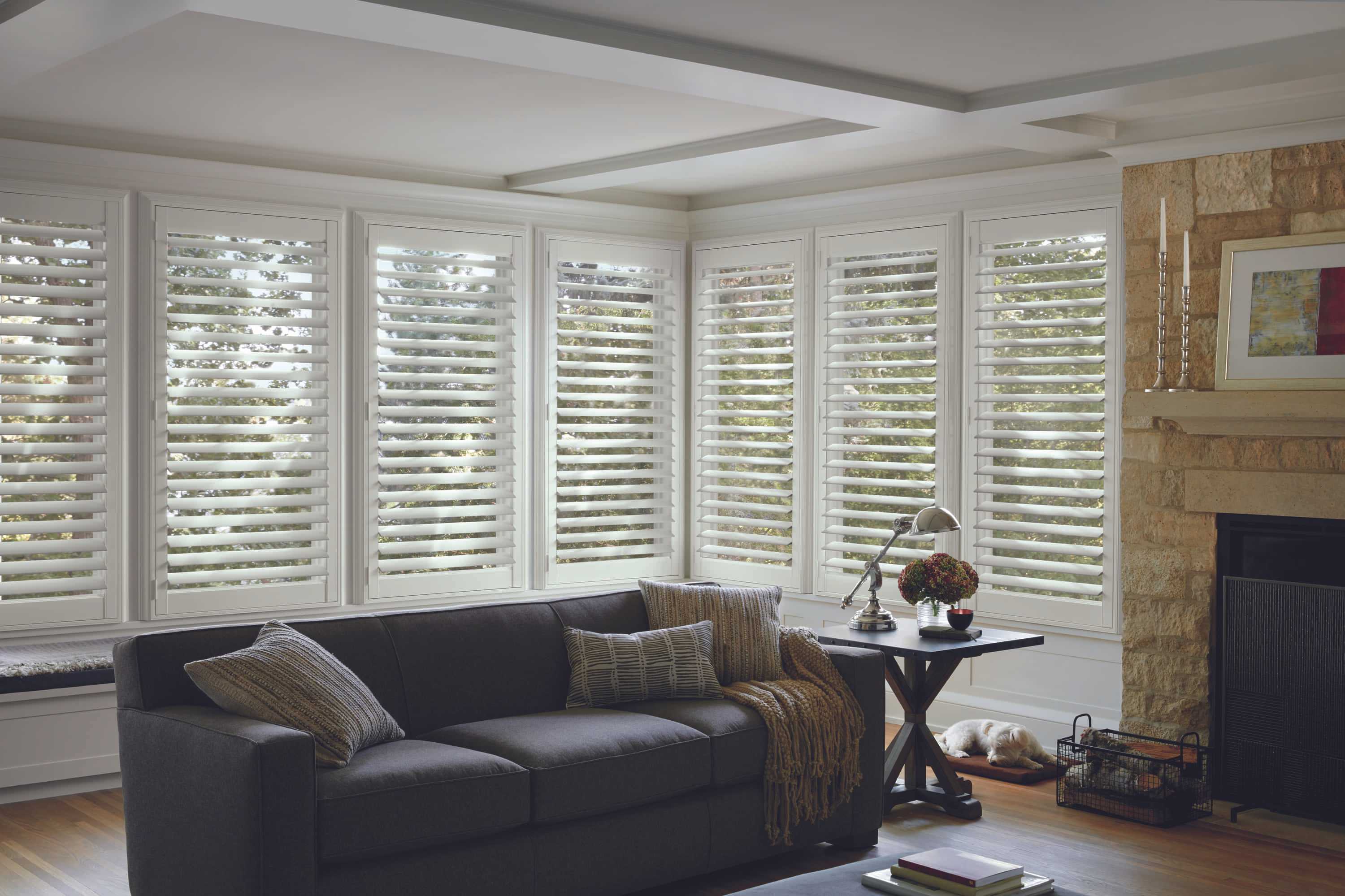 Window Shutters
What are window shutters?
An interior window Shutter is a rectangular-shaped panel that is hinged to the window casing.
See the picture below and you will recall this time-honored window treatment.
Each panel has a set of louvers, horizontal rails, that tilt open and tilt close to control light and privacy.
You can open the panel fully, as it is hinged to your window, like your kitchen cabinet door. You enjoy the full outside view.
Plantation Shutters
You will find the term "Shutters" and "Plantation Shutters" used interchangeably.
Shutters made of wood were popular on the mansions of cotton and sugar plantations in the United States, hence the name plantation shutters.
Why Choose Window Shutters?
Why Shutters over blinds or shades?
Are you ready to add the wow factor to your home with the unmatched durability?
You make one of the greatest impacts on your home decor—most bang for your buck in beautifying your home.
Shutters will last many years and they are guaranteed to not fade, crack, chip, peel or warp!
They are extremely easy to clean.
Shutters can suit any style window—standard windows, half moon, angled, bay windows, French doors.
What are your choices for window shutters?
You have three choices.
Wood Shutters
Bring handcrafted warmth and natural beauty of custom wood shutters to your living spaces.
Wood shutters are made of finest North American hardwood, basswood. Each shutter's wood grain, knots, and burls are unique—warm, welcoming and unforgettable.
Enhance your wood shutters with a wide assortment of paints, stains, options, and upgrades.
Learn more about Wood Shutters
Composite Wood Shutters
For some windows in the home, you want the appearance of wood, but you need the protection from harsh light, high humidity, and abuse.
Composite Wood Shutters are the solution—strength and straightness of modern-day materials.
The Composite shutter is made of exclusive engineered polymer material. The low-luster finish of the material makes the beauty of high-quality shutters affordable for any home.
Perfect for high-humidity areas, these shutters are ideal in kitchens, laundry rooms, and bathrooms.
Learn more about Composite Wood Shutters
Vinyl Shutters
Vinyl Shutters are made of strong synthetic poly-resin material.
Can you achieve the look of painted wood with these shutters? You bet.
The ultra-Satin finish with soft, matte luster offers the look of a finely painted shutter with the toughness of UV-resistant resin compound.
Shutters will last many years-guaranteed to never warp, crack, fade, chip, peel or discolor.
Learn more about Vinyl Shutters
Will Shutters suit the style of your home?
I offer Free In-Home Consulting to answer just that.
You need professional hands for both design layout and installation of shutters. Your shutter project need to be picture-perfect. Imperfections with shutters are vivid and not easy to fix.
Create the right ambience and look with perfect fit shutters.
Schedule our FREE In-Home consultation.